Chairman of matatu Association Jamal Roho Safi has claimed that his ex-wife Amira is a liar who accessed his Instagram account to post a public apology to herself making it look like he wrote the apology.
"The apology message in my Instagram page was not me who wrote it. It was her who wrote it and sent it to me before sharing it in my social media."
Jamal said that he apologized to Amira after the drama with Amber Ray but she wanted a public apology similar to the one made by  Harmonize  to Kajala.
"I gave her my phone. She told me since I had embarrassed her publicly, she also wanted me to apologize in public. It was not me who wrote that apology."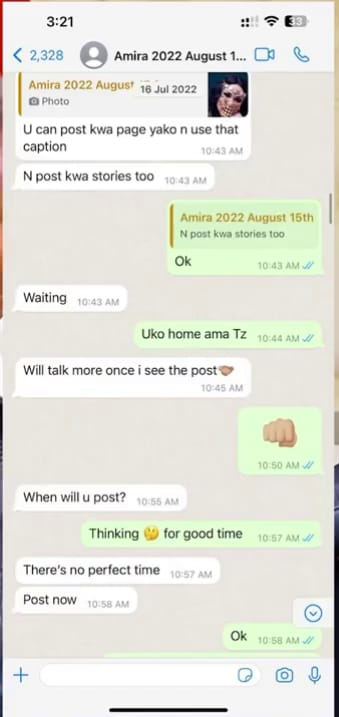 According to Jamal, his apology was from the heart but Amira wanted to make everything public. She wrote an apology on her WhatsApp, sent it to him and then posted it using his social media page.
In August 2022, an apology was posted on Jamal's social media about his pleading with Amira to take him back months after their separation.
Through a post on Instagram, the Chairman of the Association of Matatu operators said he has been hurting for some time and cannot continue causing Amira pain.
"If I'm being honest, this hasn't been easy for me to write. Out here I may seem okay but deep down I'm broken and I can no longer continue to live like this."
Jimal admitted that he had failed as a man and apologized for all the embarrassment he caused Amira.
He said he had decided to change his ways, calling it a first step towards mending their tumultuous union.
However, in a surprising twist of events, Amira seemed to pour cold water on the apology as she revealed that it took her back to the darkest place she has ever been.
Responding to Jamal's revelation, this is what Amira had to say.