The rope-like strands can be traced to century-old civilizations including Ancient Egypt, Jews, Greeks, Assyrians, and Babylonians. No type of hairstyle has triggered rumors and legendary myths than dreadlocks. The motivation behind dreadlocks was cultural and religious adherence. In some parts of Africa, a Spiritual elder or a child believed to have been born with natural dreadlocks are highly revered. The Maasai Moran can be spotted today donning their long and thin locks, dyed with red ochre.
The Rastafarians have by far been the most noticeable in embracing the dreadlocks hairstyle. Their religious attachment to the locks has been widely recognized in popular culture. Has it not then become a symbolic stance for all reggae artist to sports dreadlocks? The hallmark of Kenya's struggle for independence in the hands of the British colonial power is never complete without the mention of the long dreadlocks the Mau Mau used to rock.
While it's a fact that dreadlocks have an almost mythical importance to people of African descent, it has been noted that other cultures used to adorn them. Although an African kinky hair naturally is the best to lock, it's common to find Hindu monks and western hippies with well -adorned locks. People of color especially those residing in Africa have an excellent hair texture that makes a good recipe for nice dreadlocks
It's not uncommon to hear another misconception about the slow growth of dreadlocks. It appears so, however, the reason why it looks the locks are not gaining a considerable length as it's the norm with healthy hair is that they don't grow in a straight line. Since locks grow back and forth they tend to appear as if they grow slowly.
The most unfortunate thing is rocking your dreadlocks and meeting up with ignorant and disrespectful individuals who associate the hairstyle with devious acts of criminals or thugs. The stereotype is fading but the greatest struggle to all lovers of dreadlocks is maintaining their strands of cherished locks.
The American Asha Mandela is on World Guinness book of record as having a staggering 55 feet long dreadlocks that also weighs 42 pounds. Her Kenyan husband Emmanuel Chege, a hair stylist devotes his precious time to care for Asha's extensive dreadlocks.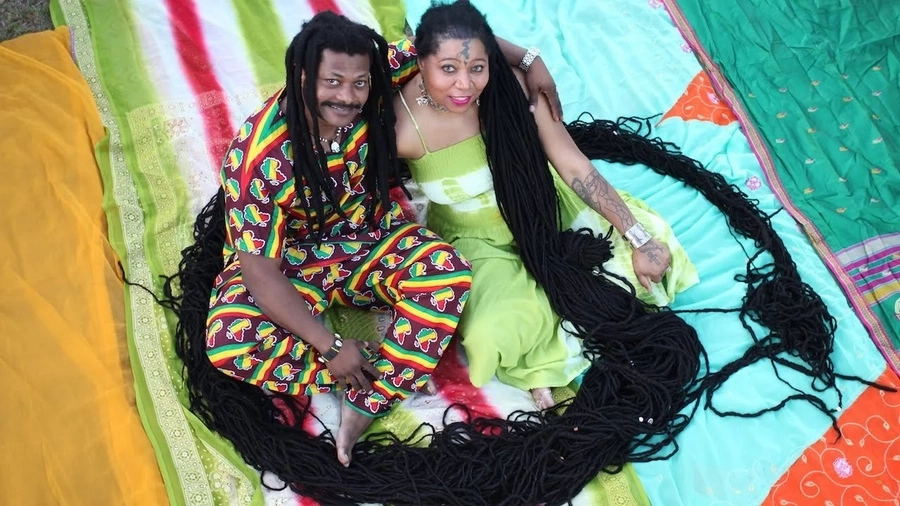 Some people out of a desire to grow dreadlocks are going extra way to get themselves some dread perms. This is basically a chemical treatment on a hair to make it frizzy. The end result will be permed locks that are completely parallel to the naturally grown dreadlocks.
Methods of maintaining dreadlock hairstyle
1. Cleaning
Just like un-dreaded hair, dreadlocks need to be washed regularly, and I mean it! Some wannabe dreadlock stylist will try to give you pointers on why you should forego cleaning your locks, but such argument is merely based on misinformation. Your hair will definitely stink if you don't clean it. A Clean hair locks up easily and faster than dirty and an oily one. Dreadlock hygiene should be a priority if you want a long and lasting experience with the hairstyle. Take special care especially in cleaning the scalp.
It is recommended you clean your locs at least two or three times every week. It can be detrimental to clean them every day as this doesn't offer enough time in between for the locs to dry. The prolonged dampness will eventually trigger mold development.
Shop for some mild, residue-free dreadlock shampoo, or any line of castile soap. Flush your dreadlocks plus the scalp with essential oil formulated into the water. It would be better to use lavender oil, Tea tree or lemon to act as an antiseptic and help to fight odor, bacteria and combat any incidents of dandruff.
2. Seek the services of a loctitian
Although it's not of utmost priority, however, it's important to seek the services of a loctitian at least once every three months for professional maintenance services like twisting your roots. A Loctitians will be able to administer a cleansing treatment made of vinegar or herbal tea to aid in ridding sweat and dirt entrained in your dreadlocks.
3. Massage the scalp
Few minutes of massaging your scalp will stimulate hair growth and give off a relaxing feeling.
4. Avoid re -twisting your dreadlocks
Retwist may give a fresh look, however, if done too often it might spell doom through breakage and irreversible thinning at the root.
5. Routine night care of your dreadlocks
Invest in a silk night scarf to protect the delicate ledges from breakage plus keep your scalp moisturized.
6. Caution when waxing
The dreadlock community has never agreed on the use of wax in binding together your strands of locs. Consequently, you will have to consider factors like type of dreadlock wax, locs density and hair texture. The level of expertise of your loctician is another huge determinant to the waxing outcome. Waxing has however proven to give off more benefits that outweigh the drawbacks expected.
It is mostly recommended for people with thicker, denser hair. If you happen to have a thin hair waxing is not necessary as in the long run, it may impede the locking process. Opponents to waxing claim that it makes the hair heavy plus attracting the unneeded dust and residue.
Dreadlocks styles 2018
It can be hard narrowing down on the best dreadlock style for your specific hair texture or preference. You should understand growing dreadlocks Locking is a journey and will be different for the individual. As you will come to notice and appreciate some type of hair will lock faster. Generally, thick hair will naturally lock quickly
The swirl faux hawk/ fohawk
This African short hairstyle style for men, is a no miss for gentlemen who want to highlight their positive personality to a large crowd. The twisting details on the upper part of the head generate an impressive attraction to the wearer. This hairstyle lightens up your personality plus going a long way to epitomize your manliness. The phrase 'fohawk' relates to Mohawk hairstyle but will yield more styling essentials.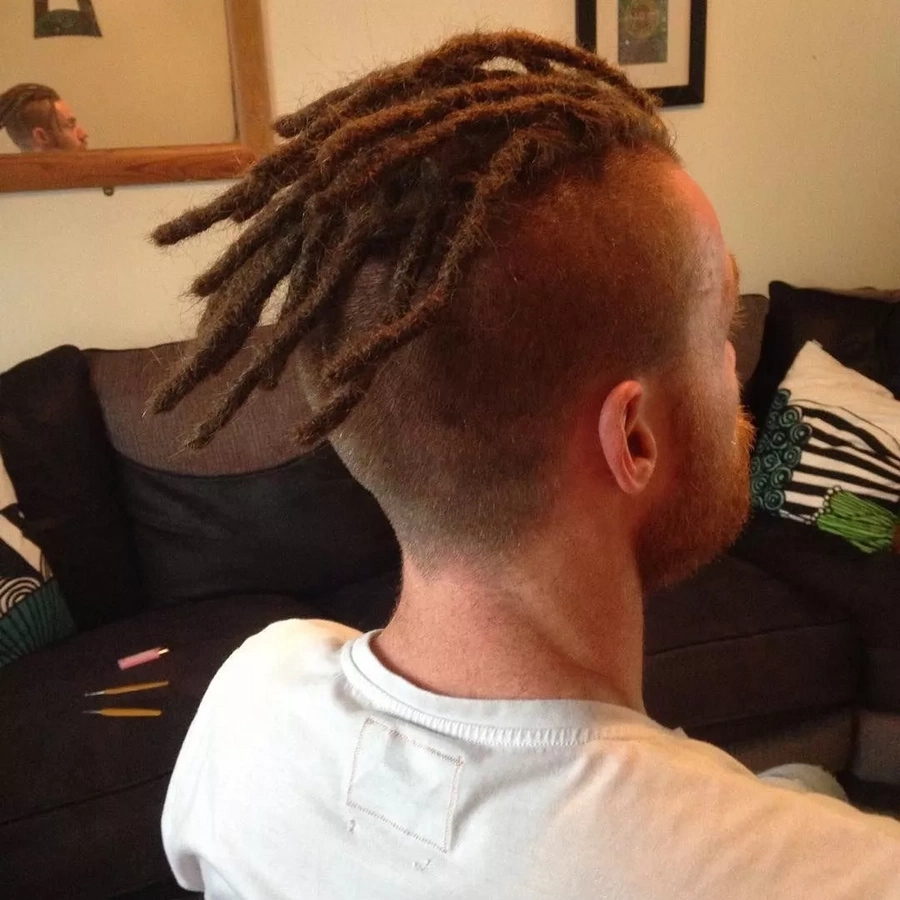 High top dreads/undercut dreads
Arguably the most 'clean cut' of all loc styles. High top dreadlocks have a relaxed handling approach in styling – short and tapered on both sides plus the rear back. This look affords one less attention due to the limited dreadlocks details embedded in the hairstyle itself. The style comes in different versions. One thing for sure, this look gives one a clean and spectacular finish that doesn't scream too much.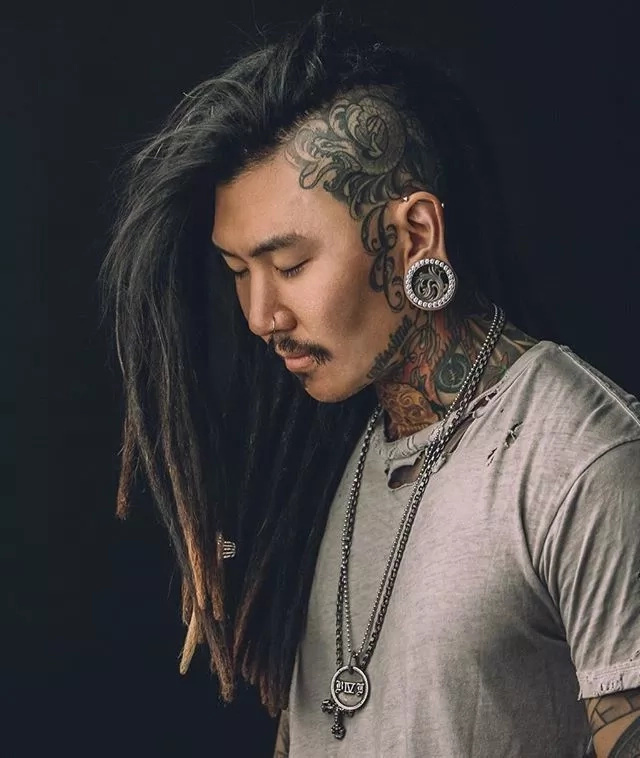 Mohawk dreads
One of the most daring dreadlock style. Most of these styles are symbolized by shaving on the sides to achieve a Mohawk hairstyle with reserved or extensive dreadlock styling on the top. Just like the classic high top dreads, it's an easy style to maintain, of course now depending on the level of Mohawk locs. The Mohawk hairstyles differ, hence have your own preference match the style you choose.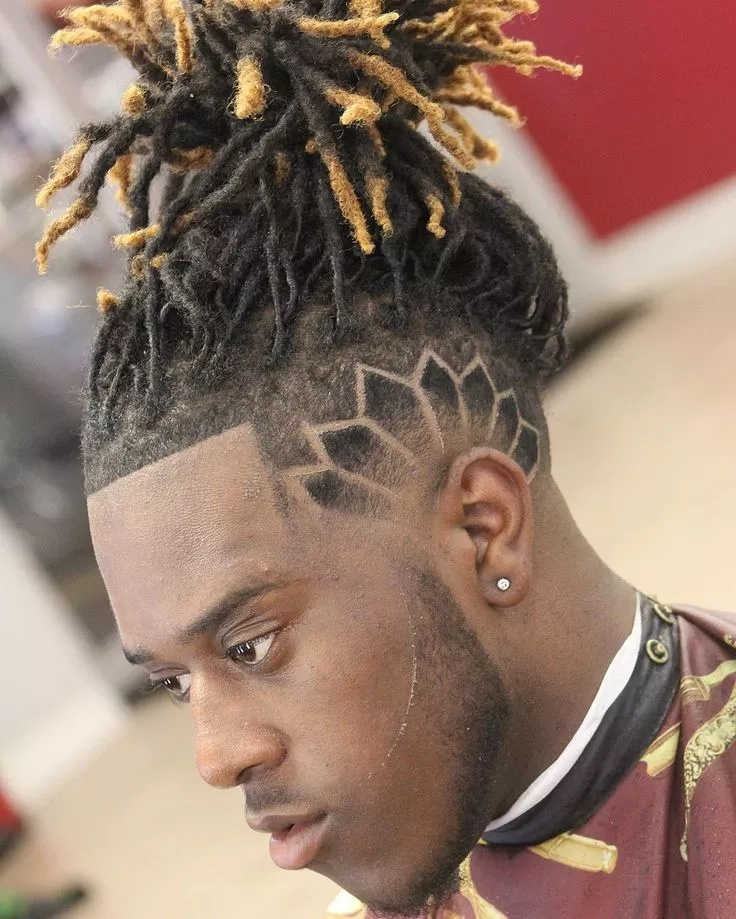 Pulled up pony dreads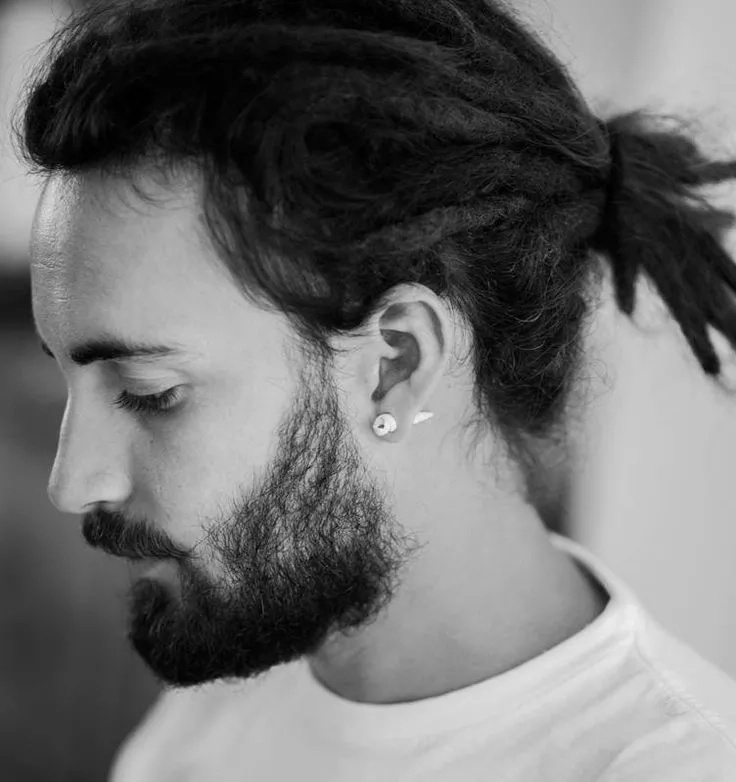 Bohemian locs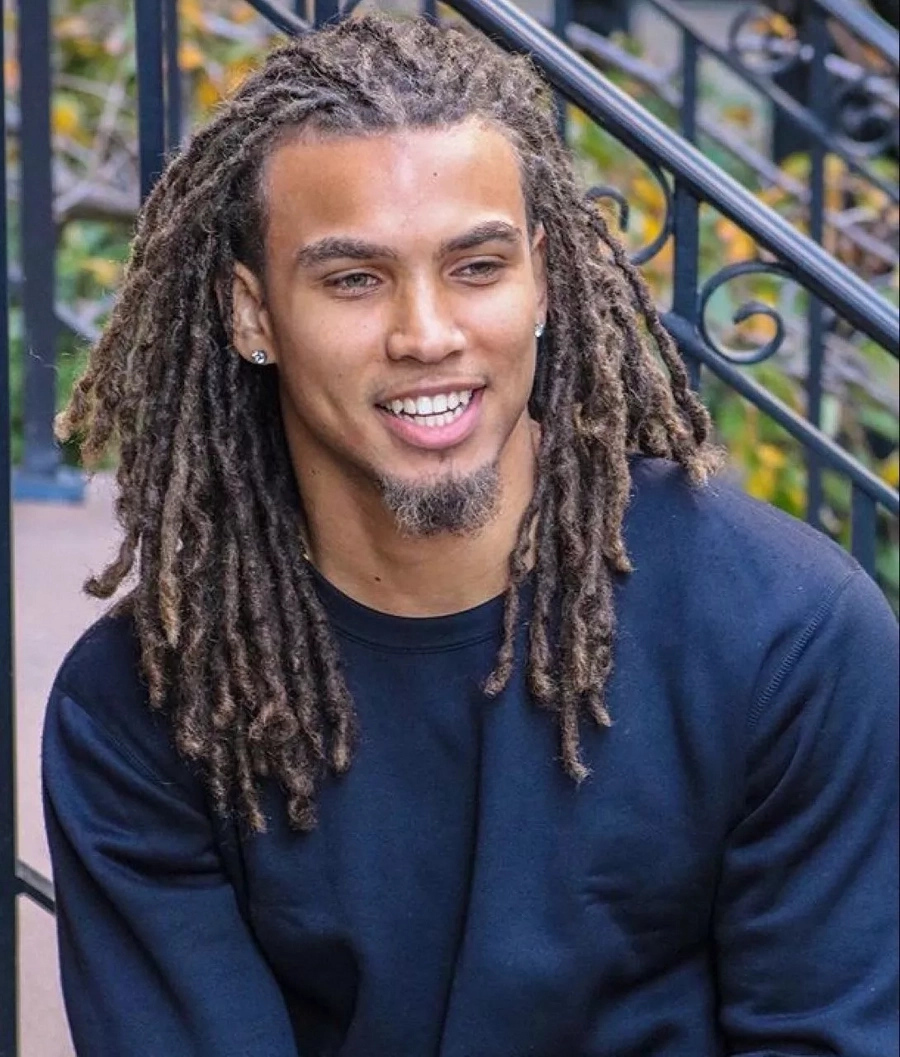 Labyrinth dreadlocks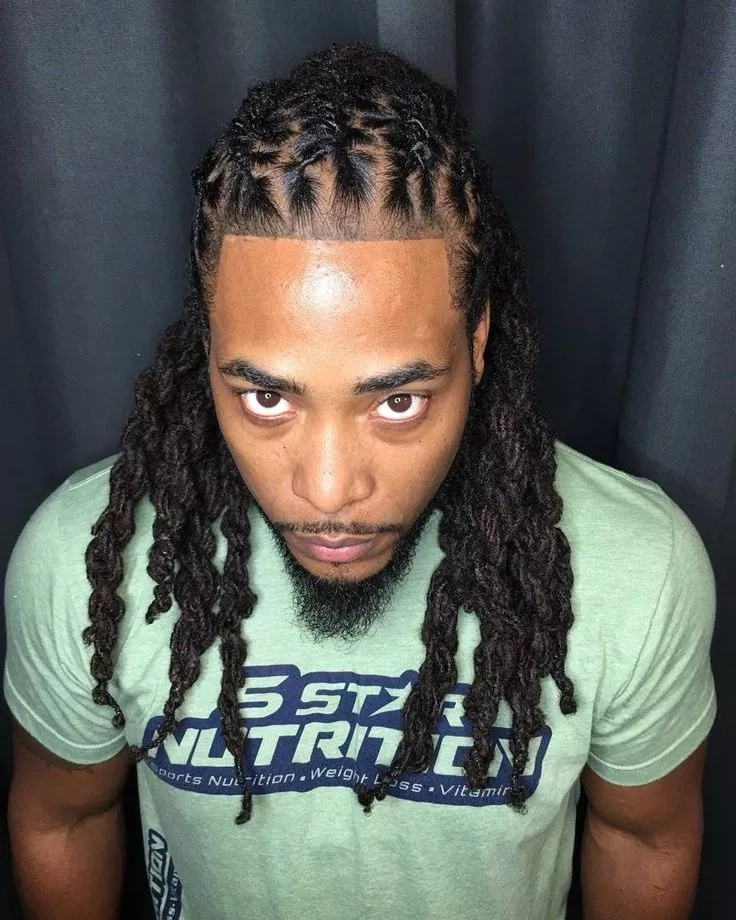 Latest dreadlocks styles
Dyed dreadlocks
A special touch of bleaching and dying is meant to alter the shades of the hair texture and pigmentation, giving you a blonde, ginger or grey highlight, depending on your preference. Take precaution before dying as it might be difficult undoing the process. You may seek the services of a loctician to help determine options for dyeing your dreadlocks.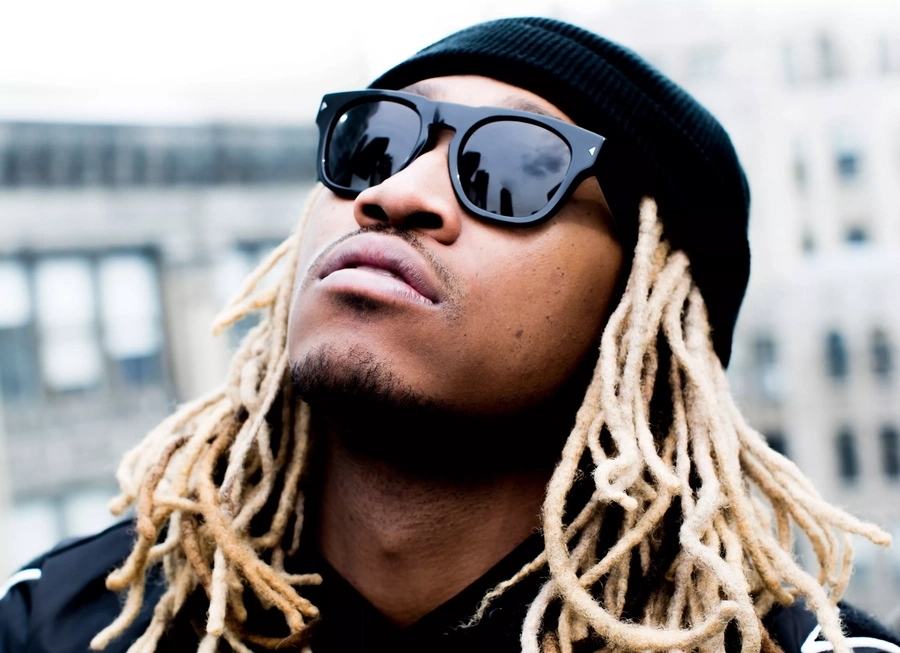 Updo dreadlock styles
Many are noticing how versatile they are. They have a vast styling variety just like loose natural hair. Take a look at these updo dreadlocks hairstyles photos easy are so perfect to match with a casual look.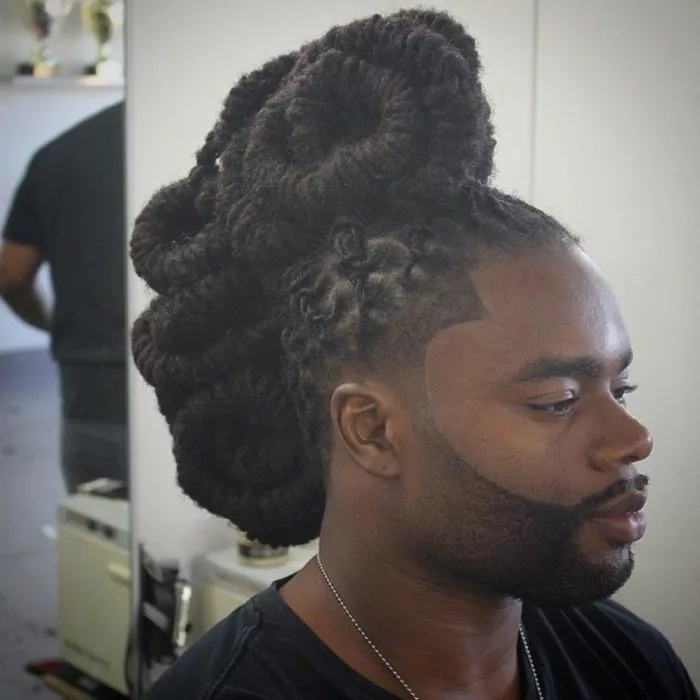 Intricate locs
Free your imagination and let creativity speak out loud. With intricate locs, the barriers to be creative are non -existent. You can, for example, do a hairdo matching braids and twisted locs.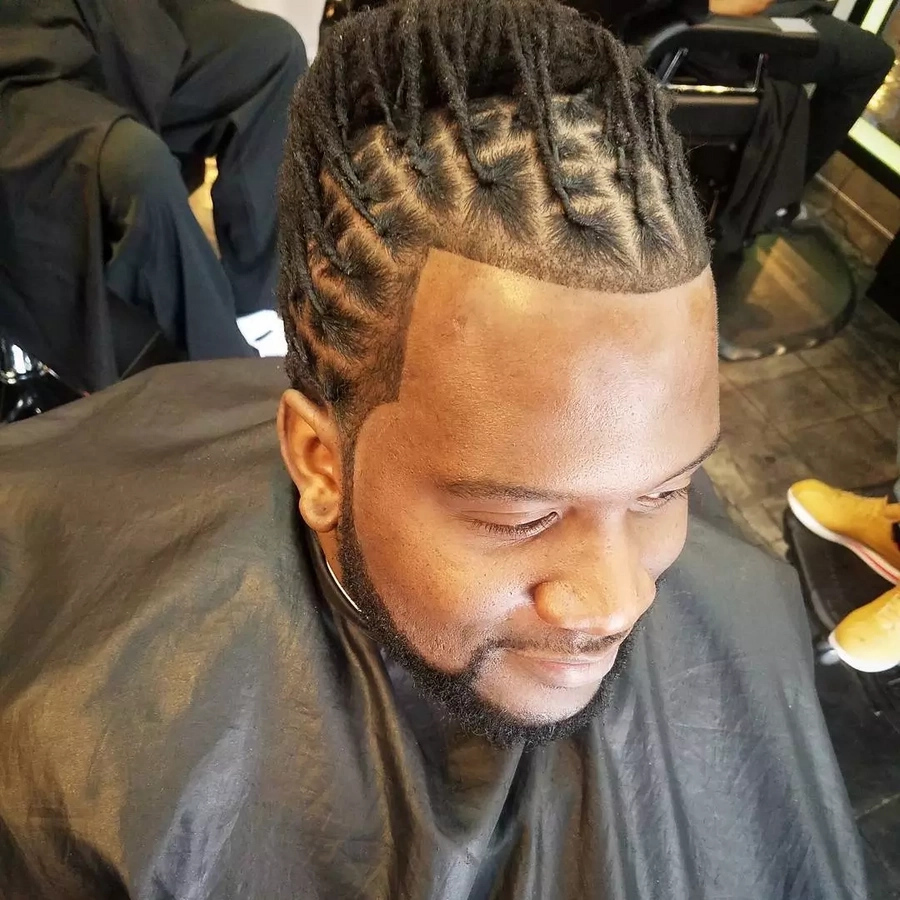 Box braids including dreads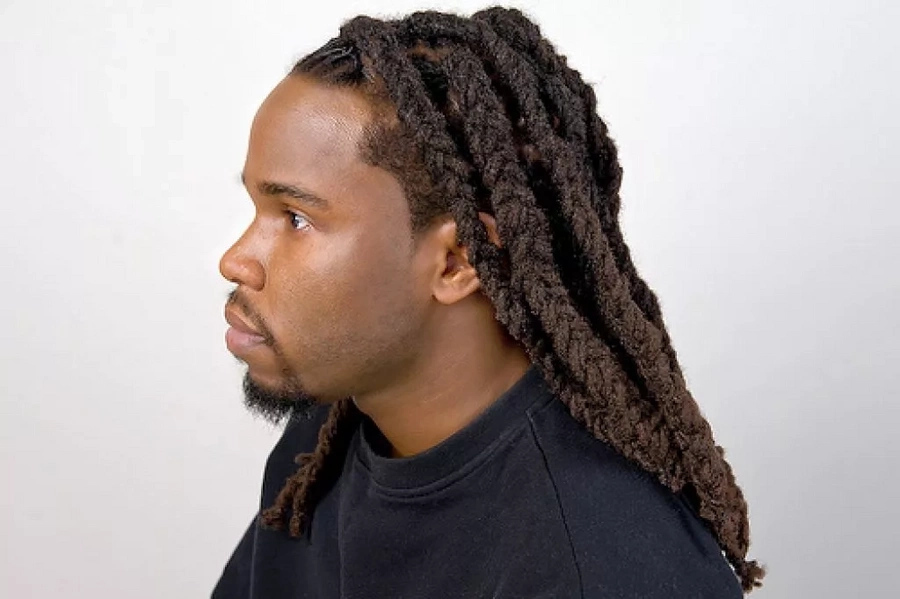 Easy dreadlock styles
The coolest thing with dreadlocks is that you can do your swimming in the beach or the pool without worrying the water deteriorating their condition. The salt water actually keeps the locs hardened. There are basically three simple ways you can dread. The choice is mostly dependent on your hair type and hair length. It up to you or the advice of the loctician that will help you narrow down to the preferred method:
Best African hairstyle – organic freeform dreadlocks
It is one of the simple locs style at disposal. Irrespective of your hair texture this is one dreading styles that is common with men in Africa. All is required is to maintain it clean and possess a great deal of patience. No wax or gels are used with this style.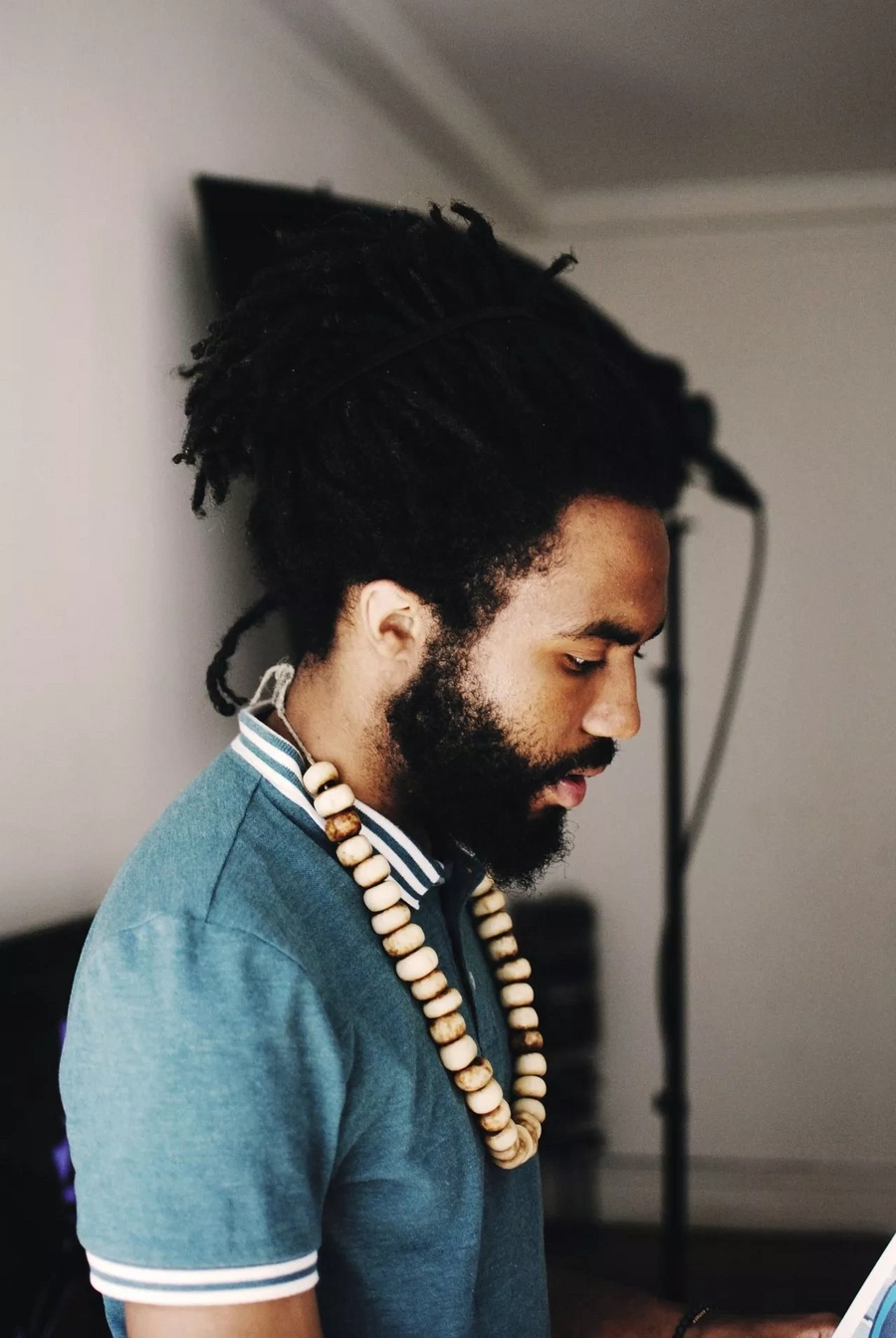 To hack this style you will have to stop brushing or any method of combing your hair. With time the neglect will necessitate the formation of knots or mats. At this point, you will be required to separate the knotted hair into individual locs.
This separation of dreads determines the size and number of locs you will have at disposal. The separate technique established might involve pulling two dreads apart to ensure they don't cramp together again. This will turn out well
People rocking free -form dreadlocks will often wear a dread tam (hat) during the night to increase friction, helping to spread the dreadlocks evenly and make it a little more evenly.
Cleaning the hair regularly should be a religious right if you wish to achieve that goal of a relaxed and excellent locs. Use residue -free dread shampoo to accelerate the locking process and forestall dread rot or molding
Best Kenyan hairstyle
Twist and rip dreadlocks
The Twist & Rip is one of the dreadlock Africa hairstyle that allows a lot of privileges over the quantity and size of the locs. It is ideal best for a kinky or nappy type of hair. It's so easy to do it by yourself, therefore, no need to visit a loctician.
Sectioning of the hair is first effected depending on the size and quantity of the number of locs you want. Then individual partition is twisted.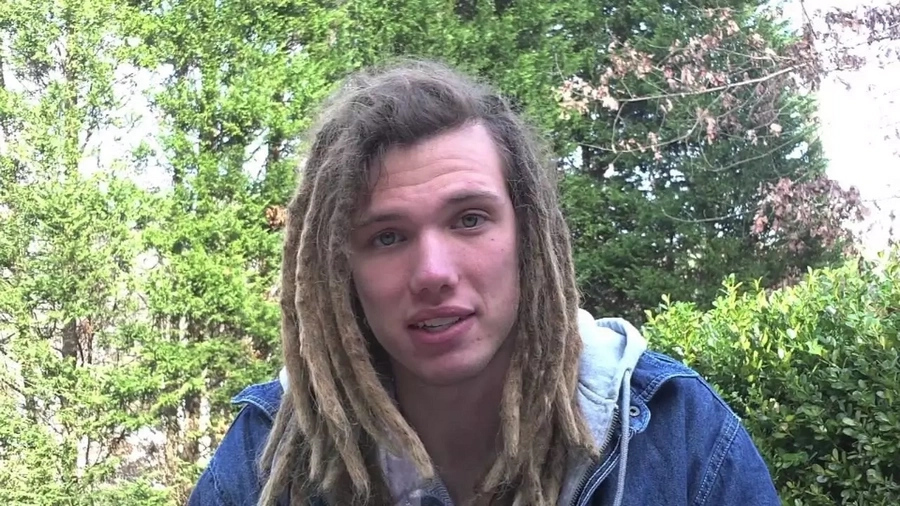 The twisting process splits the locs into two. This henceforth pushes the hair in the direction of the roots creating the needed knots. The process done repeatedly until a loc is formed. It can be an ideal short African hairstyle for dreadlocks.
Crochet dreads
Crocheting is one of the techniques so common in the dreadlock community to tighten dreads though cramping up together the loose hair. The hairstyle is one that exudes maturity. It's one of the latest African hairstyle
The drawback to this hairstyle is that irrespective of the size of the crochet or how careful, you won't miss breaking some pieces of the hair. If you are planning to apply this hairstyle, analyze what best suits you and the comfort it renders.
Short dreadlock hairstyles
You probably love short locs as you still have a short hair. For the first few months your dreadlocks will be forming, may use wax to help hold them in place, which can be a sticky situation if you work out in the heat a lot. Locs will form easily in African hair without wax; those with straight hair can do the same with diligent backcombing in the first year, so ask your stylist to skip it
Combi coils twists, single strand twists
It's formed by twisting of an individual section of the hair from strand's root to tip. It is an all -time best as an African hairstyle for short natural hair (2 -3 inches) to slightly longer hair. This hairstyle works well with any texture type of hair. This method uses a comb to coil a strand of hair with gel or wax to form uniform coils. The drawback to this coil is that it will be a flop if you experiment with a long hair.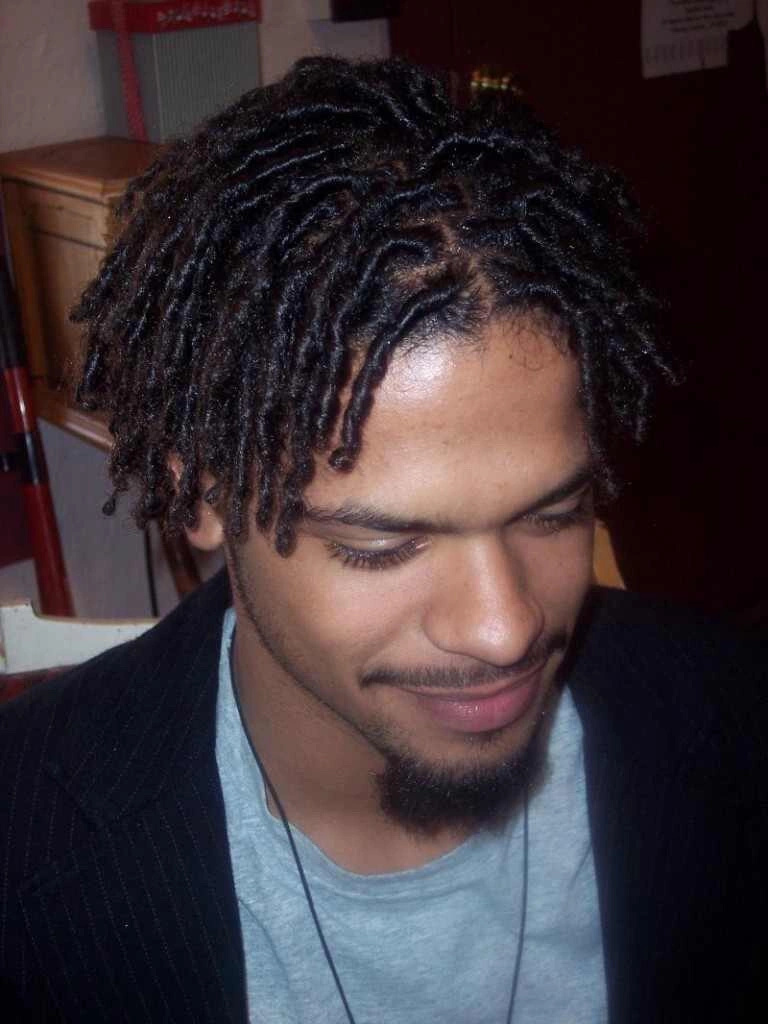 Short thick locs style
One amazing thing about this short African hairstyle it comes in different shapes and sizes to match your preference Locs. This most advantage of cultivating short thick dreadlocks is that they are healthy for your scalp and hair. The locs blossom and thicken as they're not held up into condensed twisted bundles. Since the overall strands will be minimal, it's easier to clean and maintain. In additional its, stronger and durable in the long run.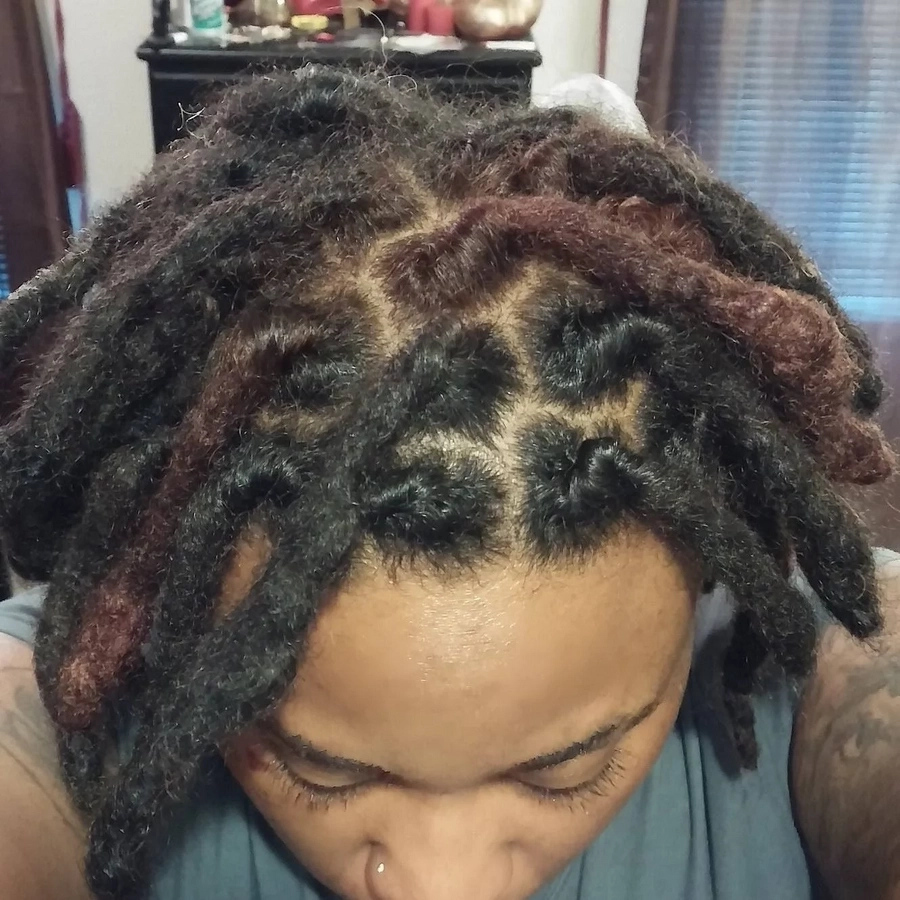 Short curly dreads
If you wish to look classy and elegant with you dreadlocks, be sure to rock this short curly hairstyle. Make heads turn with the oozing glamor on your dreads. The dreadlocks are usually shaped like curls all the way from to the tip, making you pose many shades of handsomeness. Curled dreadlocks bestow unto you a styles look, all while being easy to even curl them yourself.
Spiky, messy dreadlocks
All dreadlocks styles can be customized to suit different clientele, styles, ages and global trends. It is ideal for young men and adults.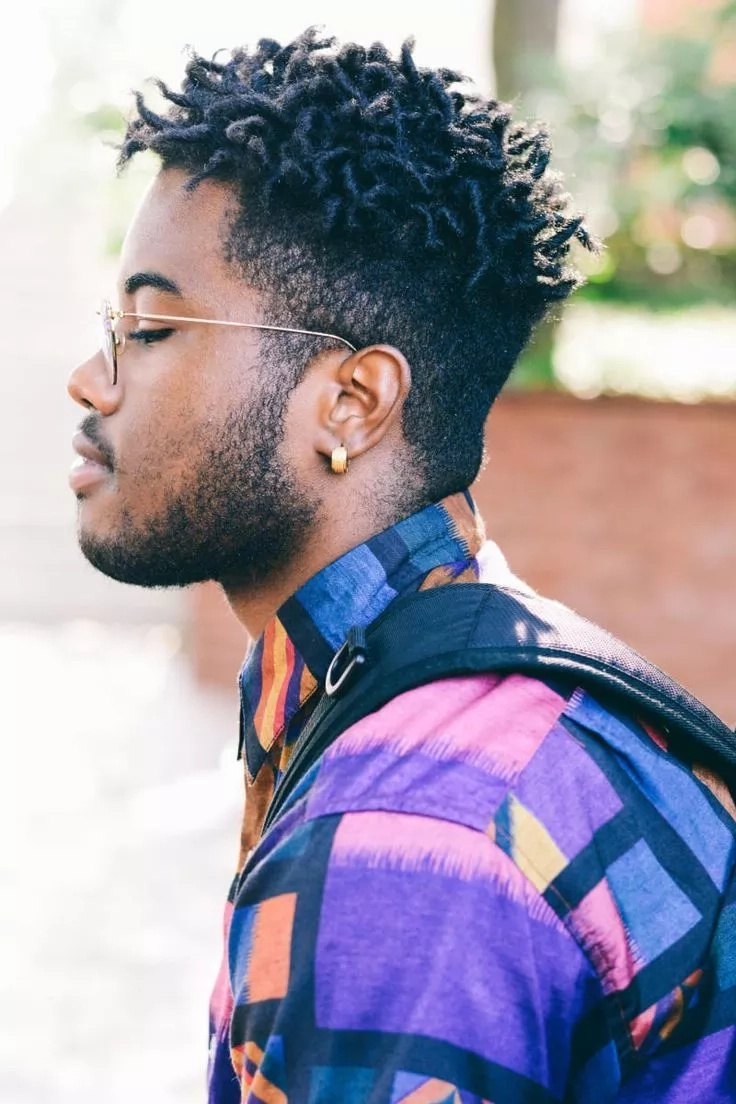 Long dreadlocks hairstyles
If you have long dreadlocks and probably on your way out to the gym or hiking and want the locks clear off your face then consider a good way of Putting Dreads in a Bun. Here is an easy way to do it:
For starters, buy some elastic headband from a retail store.
Gather your dreadlocks into a single bunch and secure them in a ponytail.
Wrap carefully the headband multiple times around the ponytail. If the ponytail is thick secure it well with more turns or wrap.
Twine your dreadlocks from the roots to ends, leaving two strands of locks hanging at the bottom part of the ponytail.
Tuck the rear ends into the underpart of the bun, securing it in the underside of the headband.
Take the two loose dreadlock and wrap them around the bun. Tie them tight together like you would to shoelaces ensuring the bun is well secured.
Any loose dreads can be tucked and secured beneath the underside of the bun, or the headband itself.
Depending on your preference and hair texture, check out these hairstyles for ideas to rejuvenate your hair experience.
Two strand twist style for men
This is one of the best African hairstyle for natural hair and of course, works well if you happen to be packing a long hair. This is still one of the trending hairstyle for men. One way to ensure you achieve this stunning hairstyle is using a comb to separate the portion of the hair. Each section is split into two pieces that are then entwined around each other. Generally, the whole basic idea is to ensure that the strand twists will hold the hair to allow the locking of the roots. With time the hair will eventually become lose and lock as well.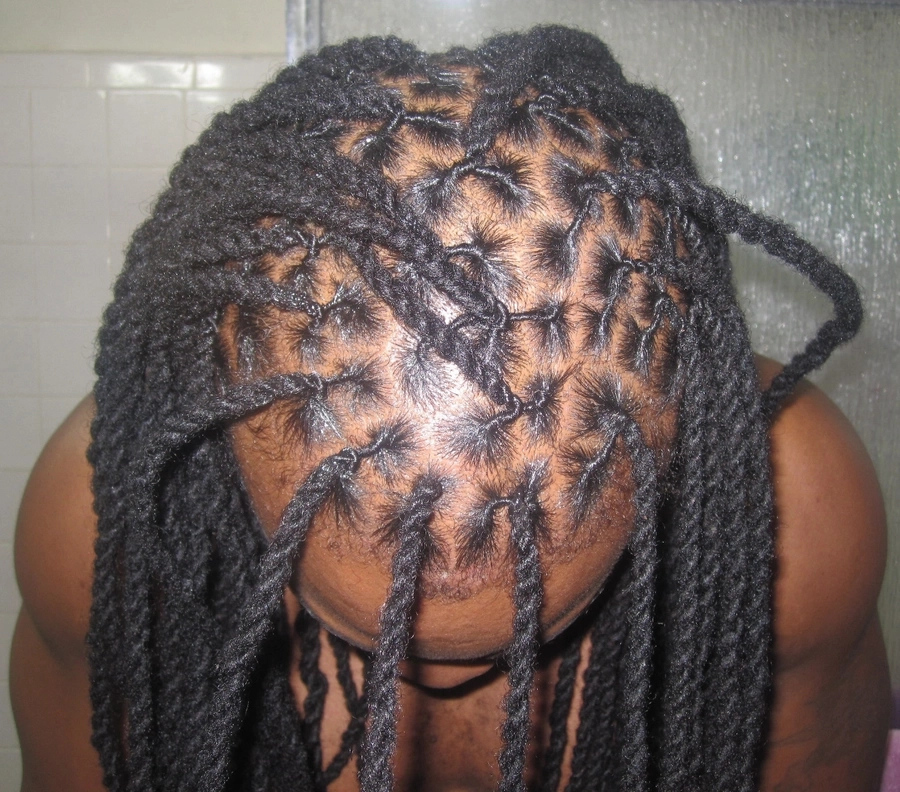 High bun dreadlock
Anyone insisting you can't a sport trendy locs like this on a formal event have totally lost it.is one trendy hairstyle in Kenya. For convenience wrap your dreadlocks at the top of the head in a stylish high bun. When it comes to elegance and being super edgy this dreadlock hairstyle is second to none. Grow one and you can be sure to tap into the natural mystics with your giant antenna facing into the skies.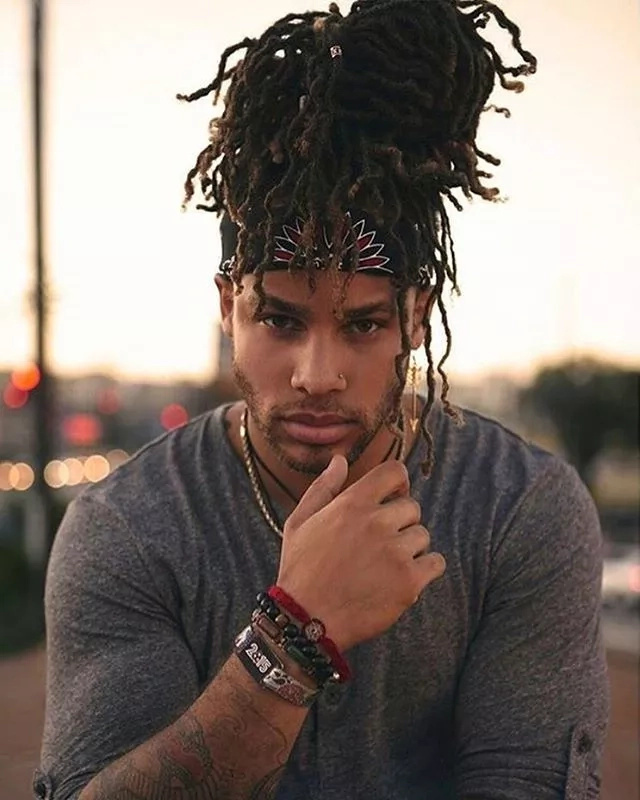 Twisted bun dreadlocks
This dreadlocks Kenya hairstyle is among those that are gradually gaining popularity in the country. The dreadlocks are secured by twisting the locs into three buns and then warping them backward. For an even stylish look with this hairstyle tie the bun with a hairband.
Long loc styles
It's probably the main inspiration of all other dreadlock hairstyles. Its first among equals as being a trendsetter of locs fashion. Be assured to stand while sporting the hairstyle irrespective of personality.
Dreadlock styles for men
Brotherlocks
This is the male version of the popular Sisterlocks that is formulated to be a trendy hairstyle in Kenya to the masculine locs conscious men. The individual locs grown to be smaller than traditional locs. It's very versatile and provides a professional look especially for an official demeanor. Brotherlocks are styled to be tiny in nature. The loctician may decide to abundantly incorporate as many as hundreds of them. Their lightweight nature is a huge plus as it's easy to style the locs in varying designs. At most, it will take one year to more than 2years before your brotherlocks is fully locked.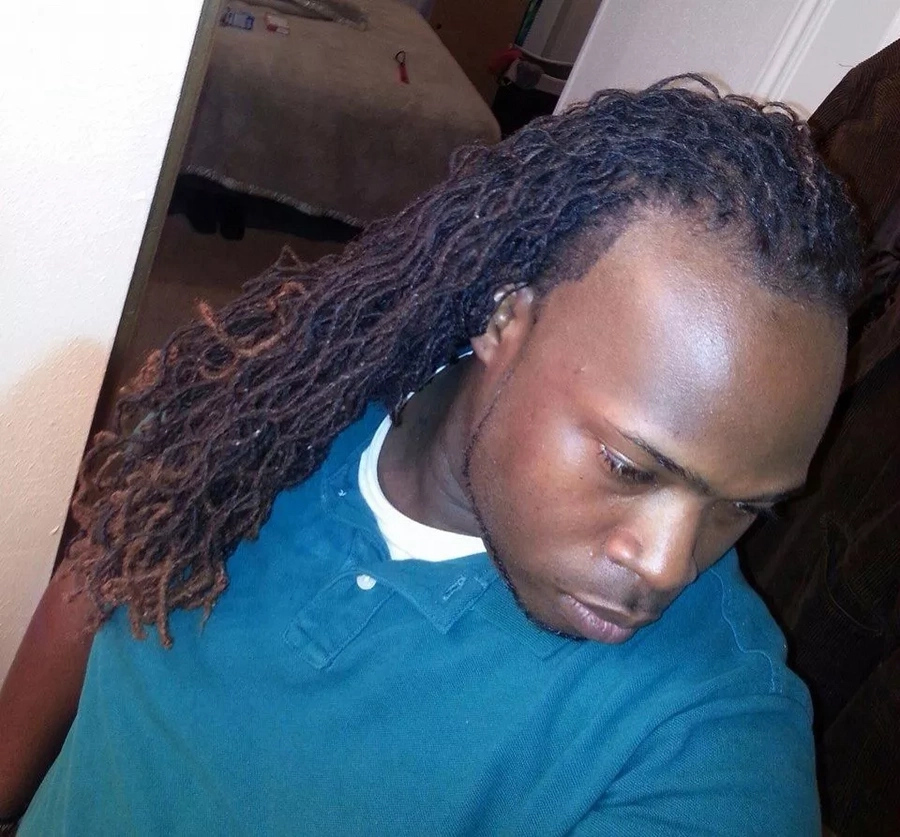 Incredibly short dread styles
You will agree with me the clean finish achieved by this look is so out of this world. Even Craig David could not resist the temptation to sport the look. If you have a thin hair and kinky one per say, this is your hairstyle.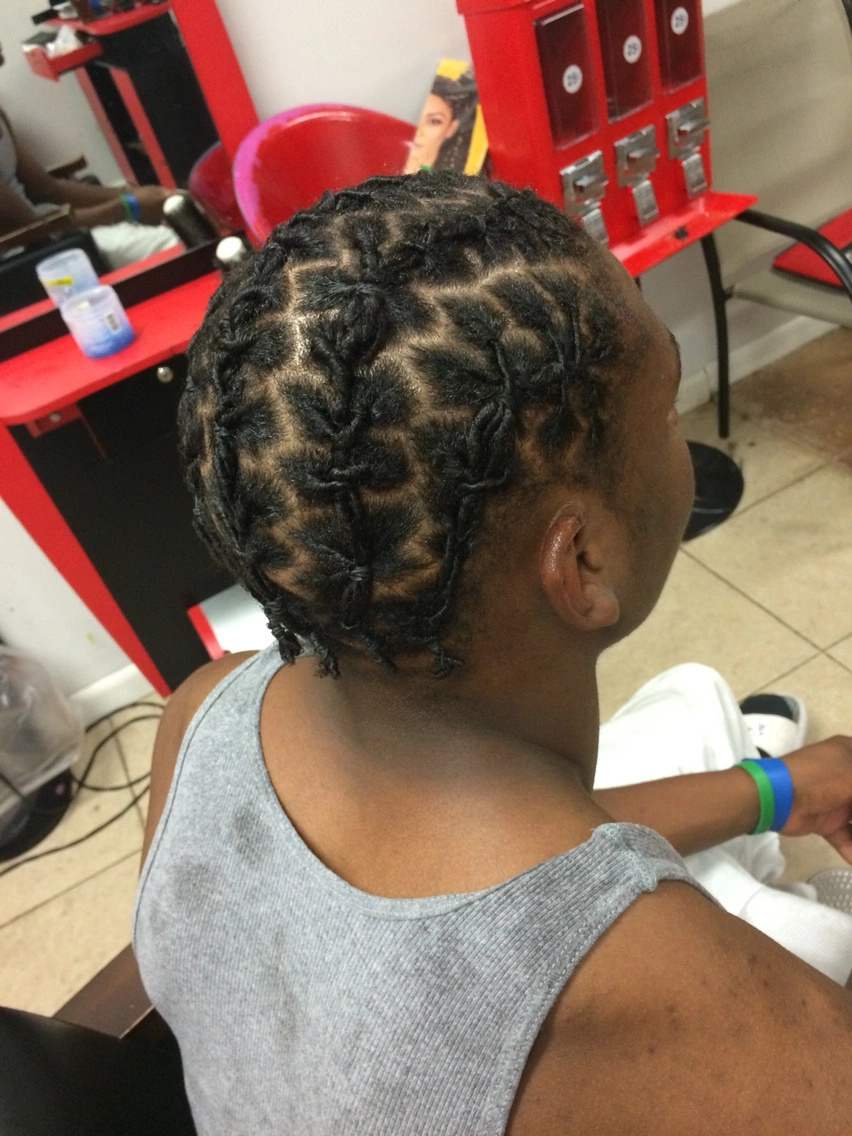 Ombre dreadlocks
Ombre style has risen in popularity and it's not hard to notice why that is cases. The color hairstyle is usually done on dreadlocks, for specific shades especially at the bottom half of the strands. You can go forward and add spice to the look by wrapping some locs with gold beads.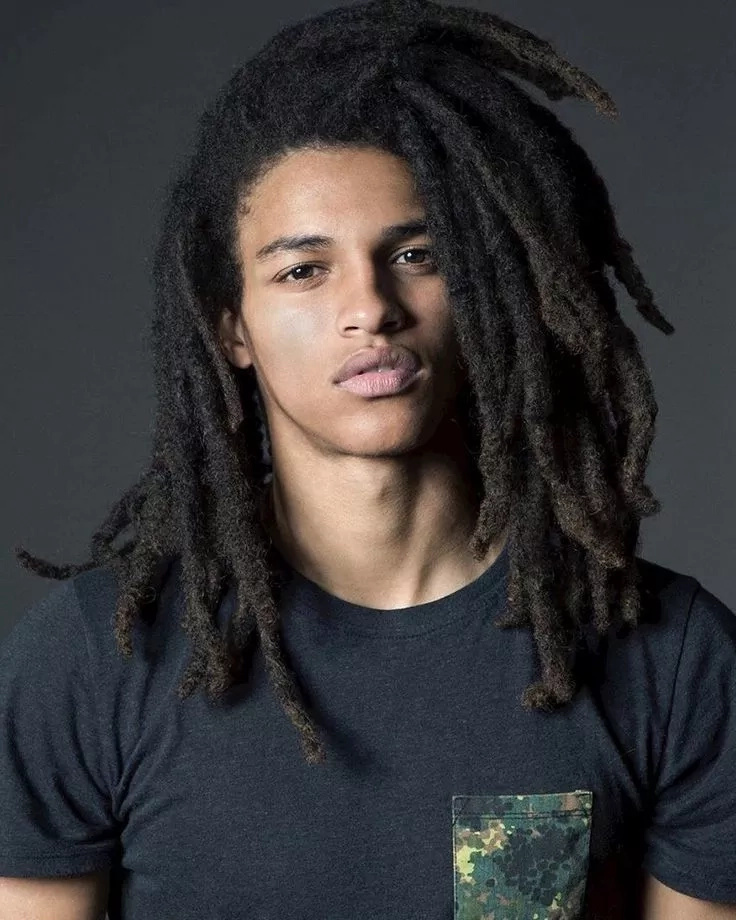 Long black rastafarian dreadlocks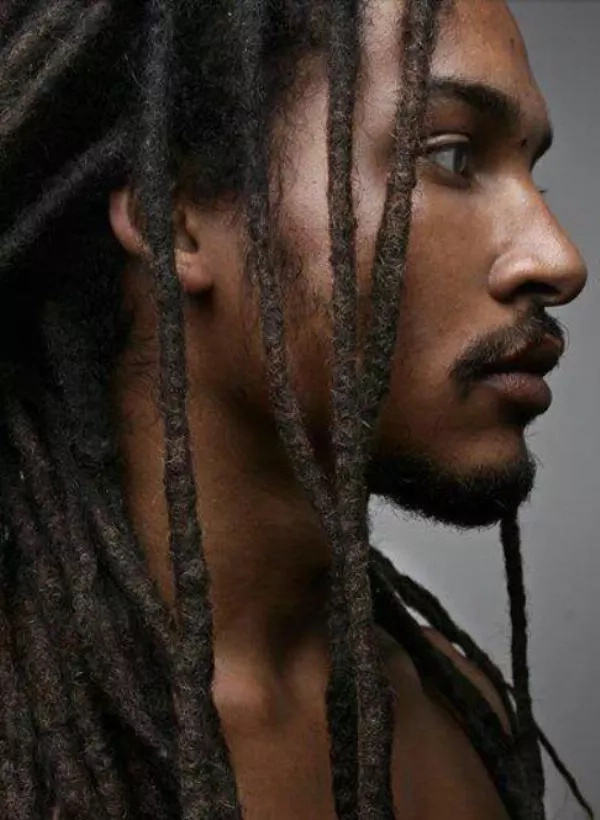 Dreadlock extensions
For the past few years, loc extensions have permeated the dreadlock sphere to become a most preferred styling option for men. Men can now experience the joy and luxury of dreadlocks without the excruciating wait for a natural hair to lock. The flexibility of extensions is that you are not held by the inherent styling that accompanies the natural dreadlock.
The convenience afforded with this technique is the ability to swap your looks by simply removing the current extension and having new ones installed to a whole new makeover of style. Have a look at this stunning picture of dreadlock hairstyles with extensions and get inspired to break the long-held traditions that extensions are only for ladies.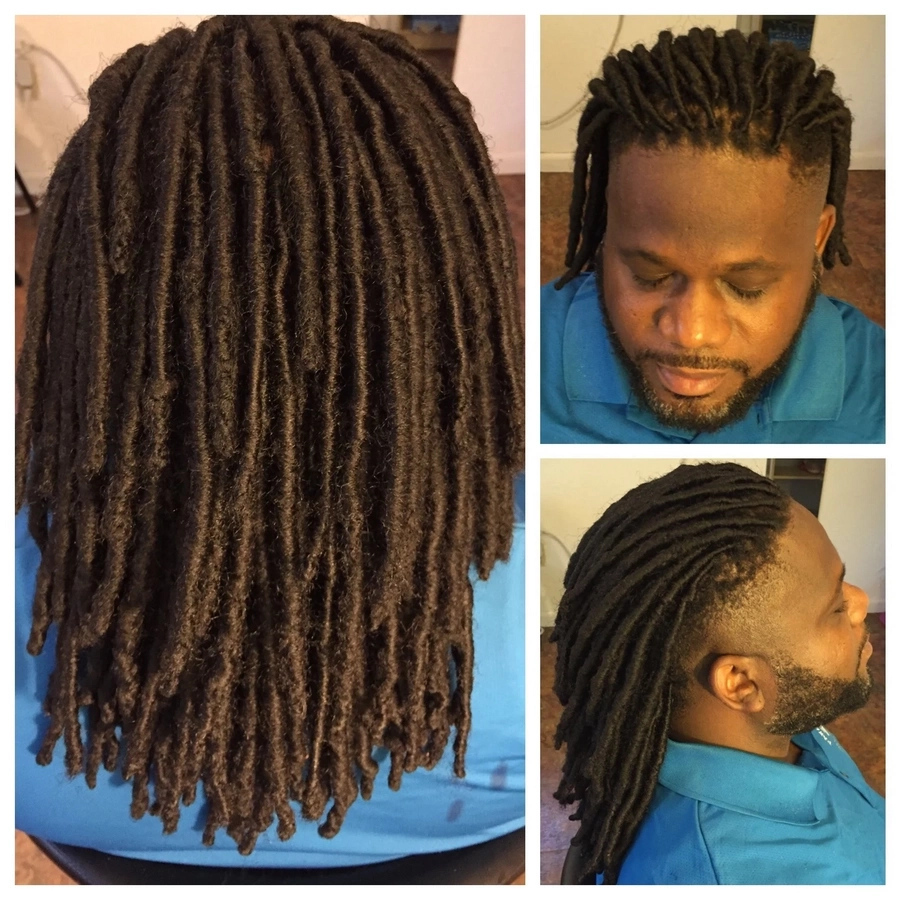 These type of extensions dreads greatly vary greatly in shape length, size, width, and texture.
Braided hairstyles for dreadlocks
One of the most noticeable braids locs hair product that has taken over is the faux locs, which is a basically a synthetic braided dreadlock. They can be purchased at any cosmetic or beauty product retail outlet. Faux locs extensions mimic dreadlocks through its vast yarn, synthetic or human hair. A Lot of Kenya braid hairstyle can be harnessed from braids:
Crochet faux braid dreadlocks
What a fantastic way to show off your locks in that wedding and be the center of attraction. They are irresistibly versatile and fabulous. They fit all men irrespective of their hair texture. There a wide of variations you can choose from in such that you can have several types of braids every year.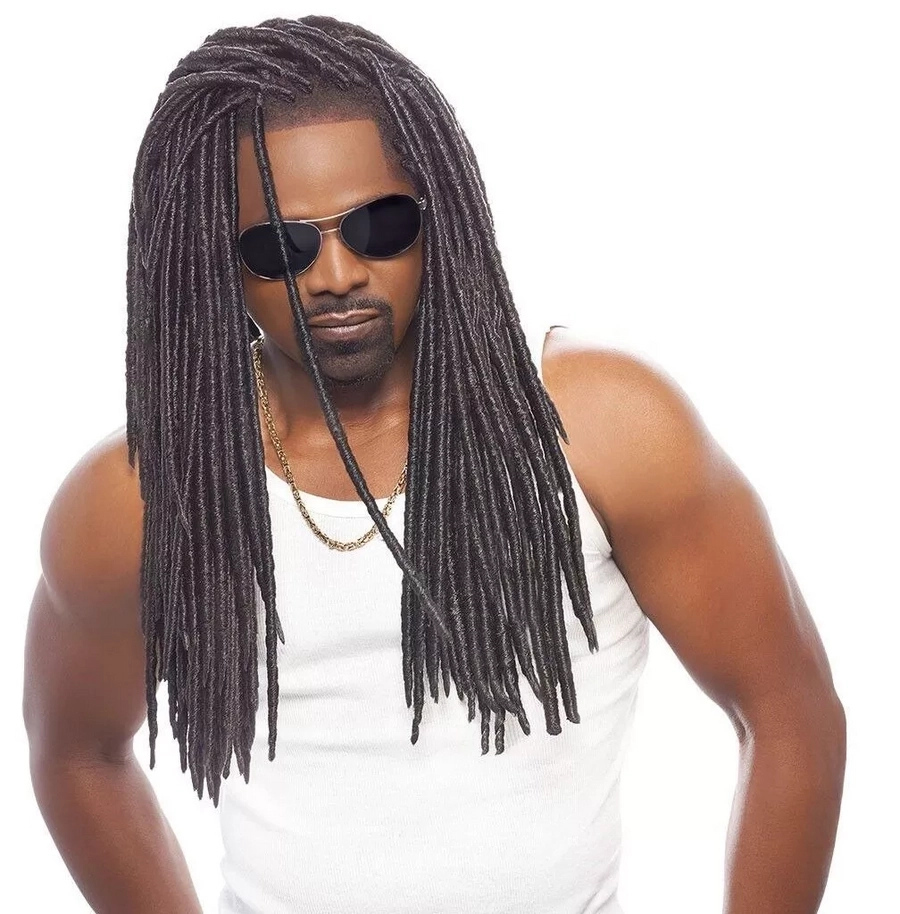 Braided ponytail dreadlock
A very classic and versatile braided hairstyle that is normally pulled back to form a nice looking ponytail. The ponytail tail, of course, helps keep the face free off dreadlocks. Get some ribbon or hairband to gather all strands to a bunch of a cute ponytail. This hairstyle style is ideal for working out in the gym or hot day out.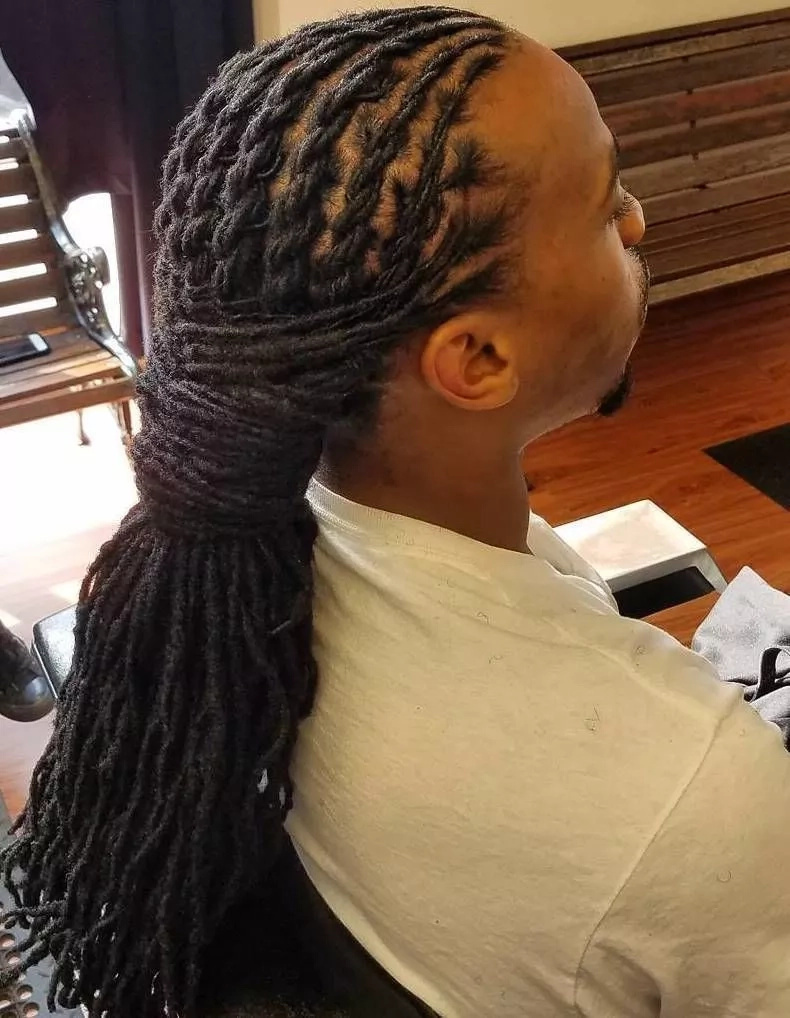 Fishtail braid dreadlock
This trend is awesome not mentioning it's very easy to style. This African braid is also known as the herringbone/fishbone braid is less elaborate and a sure time saver. The fishtail can be undone or done in minutes using a weaving technique, further assuring a blend of unique texture and depth to your look.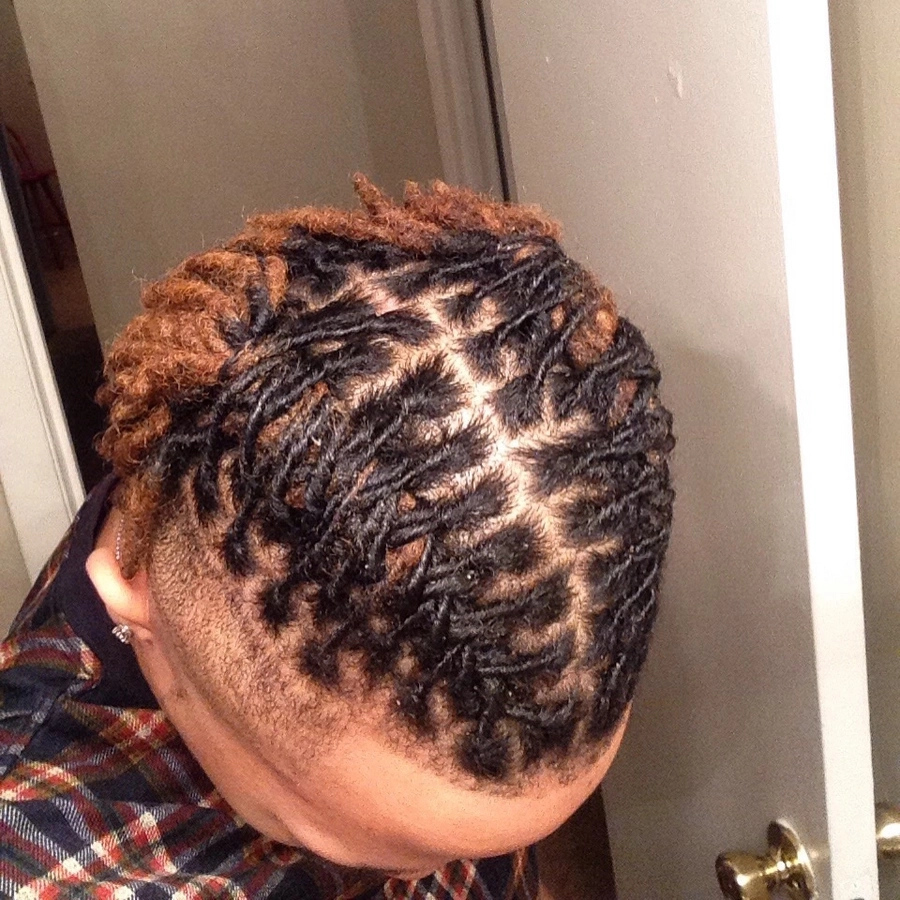 Source: Pinterest
Braid dreads in cornrows
The blend of cornrows with dreadlocks gives a spectacular look. This one of the latest Kenya hairstyle braid you will be seeing on the streets for a long time to come. Dreadlock cornrows are styled as basic or braided into patterns.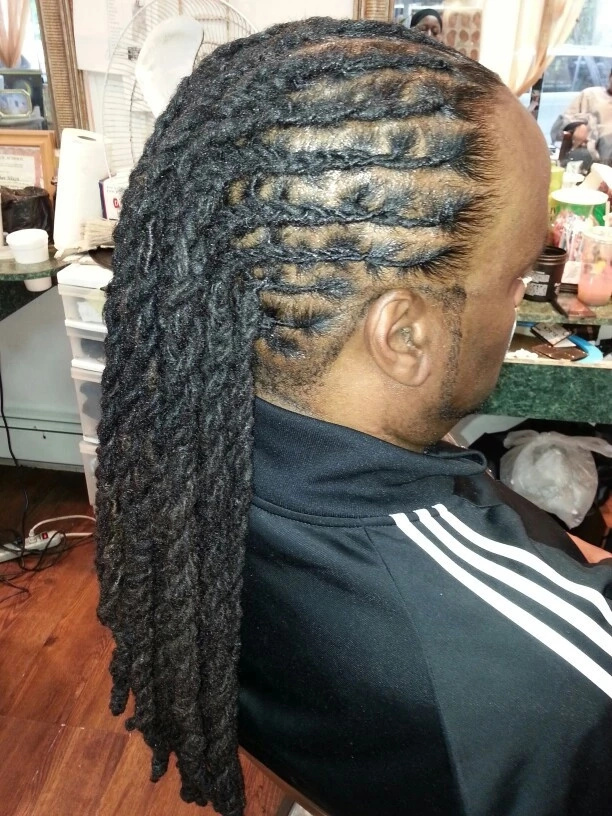 Trendy dreadlock hairstyle
Twisted low ponytail dreadlocks
A ponytail is both a stylish and breathtaking way of styling and the twisted touch achieves an edgy, glamorous look. The distinct and unique way of securing the ponytail at the back can also incorporate using the dreadlocks utilizing themselves to wrap and hold the bunch together.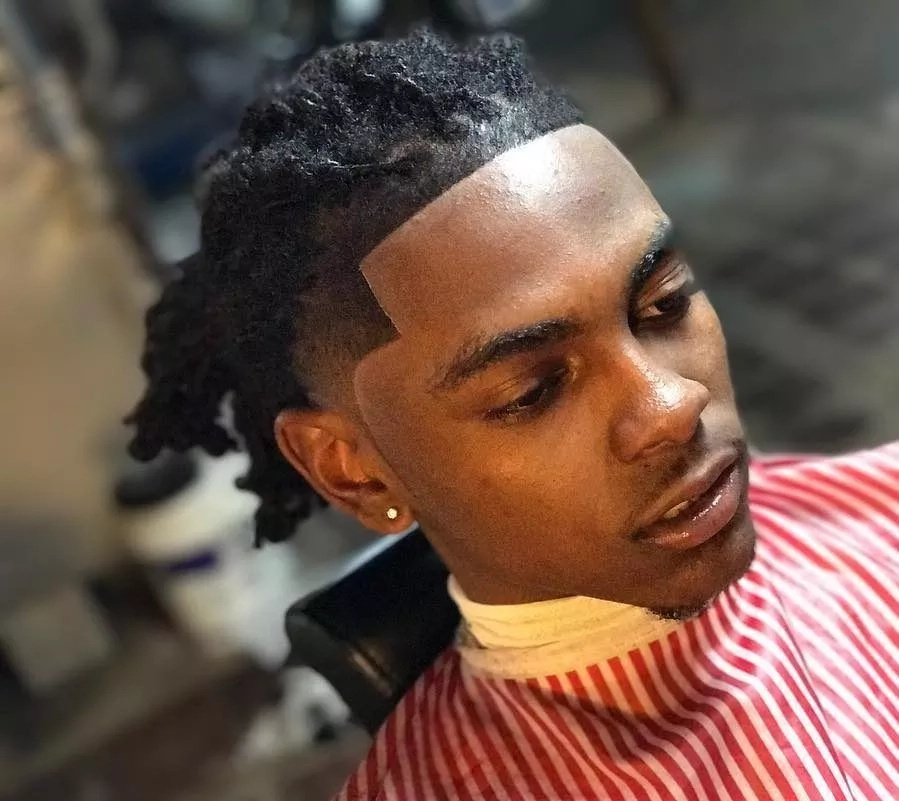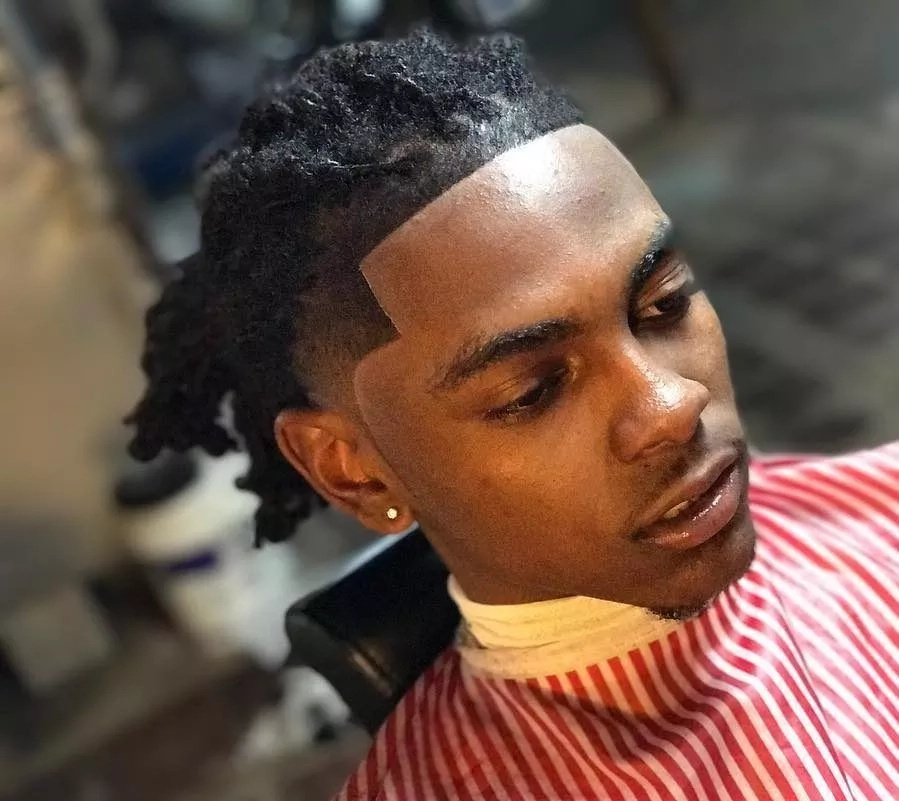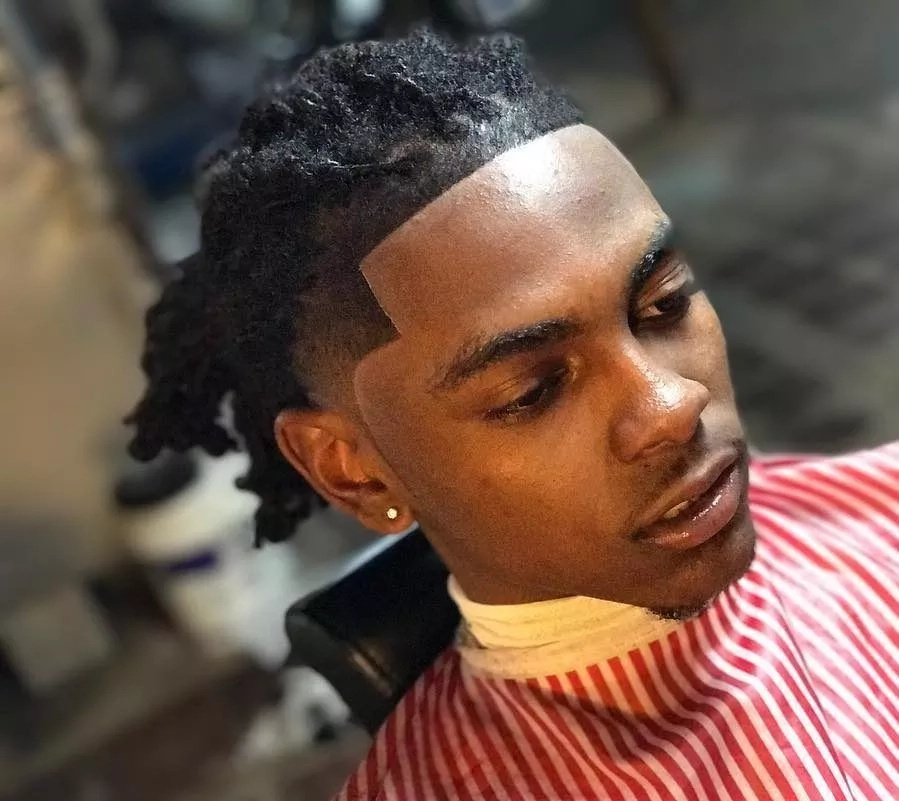 Basket weave dreadlocks
This braided dreadlock styles for men is a bit complex and time demanding, hence your patience will be critical. Once you hack the style you can be sure ladies will melt their hearts for your locs 'beauty and sophistication.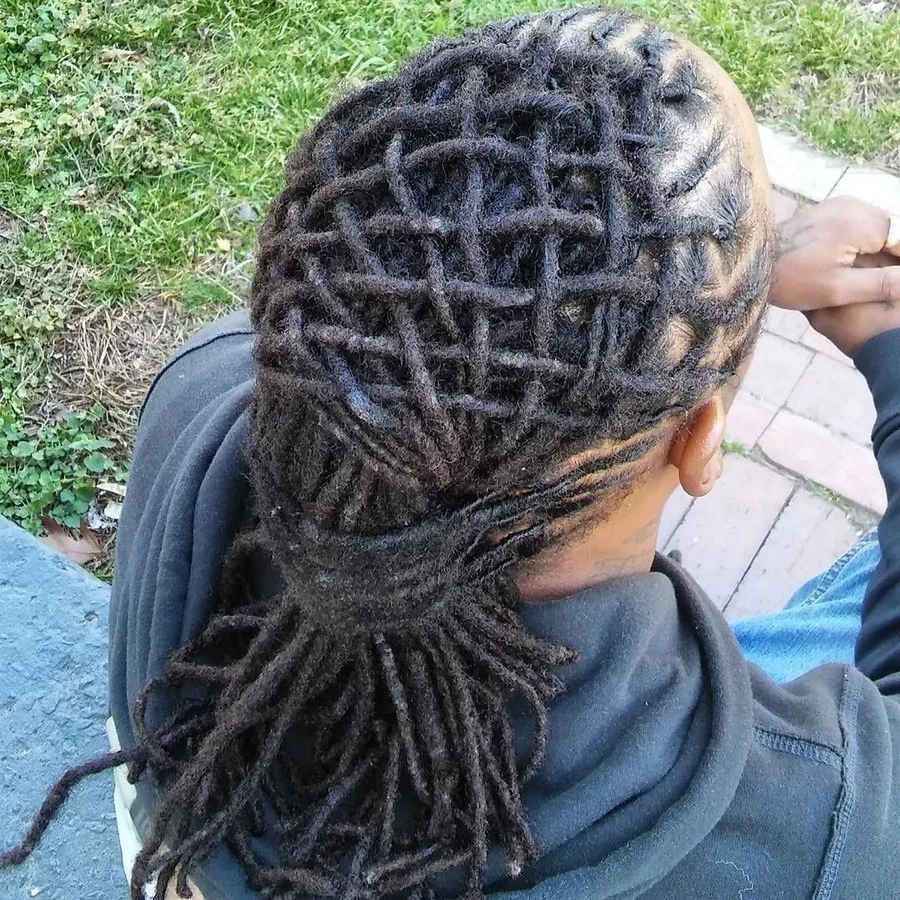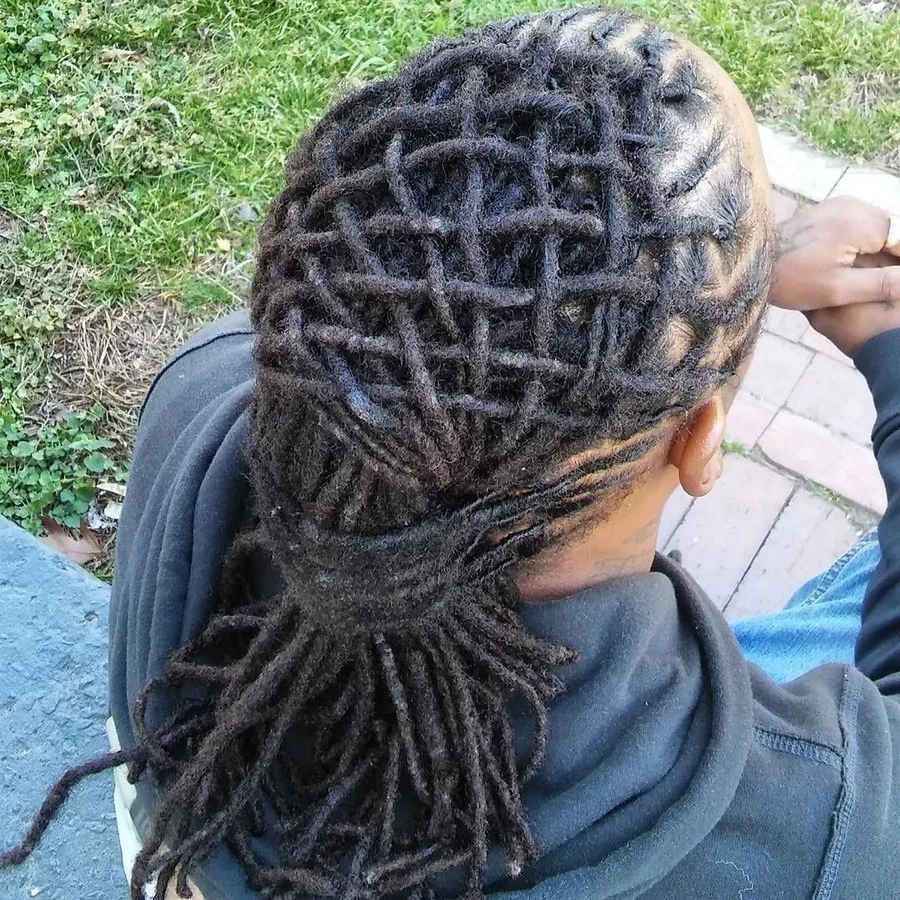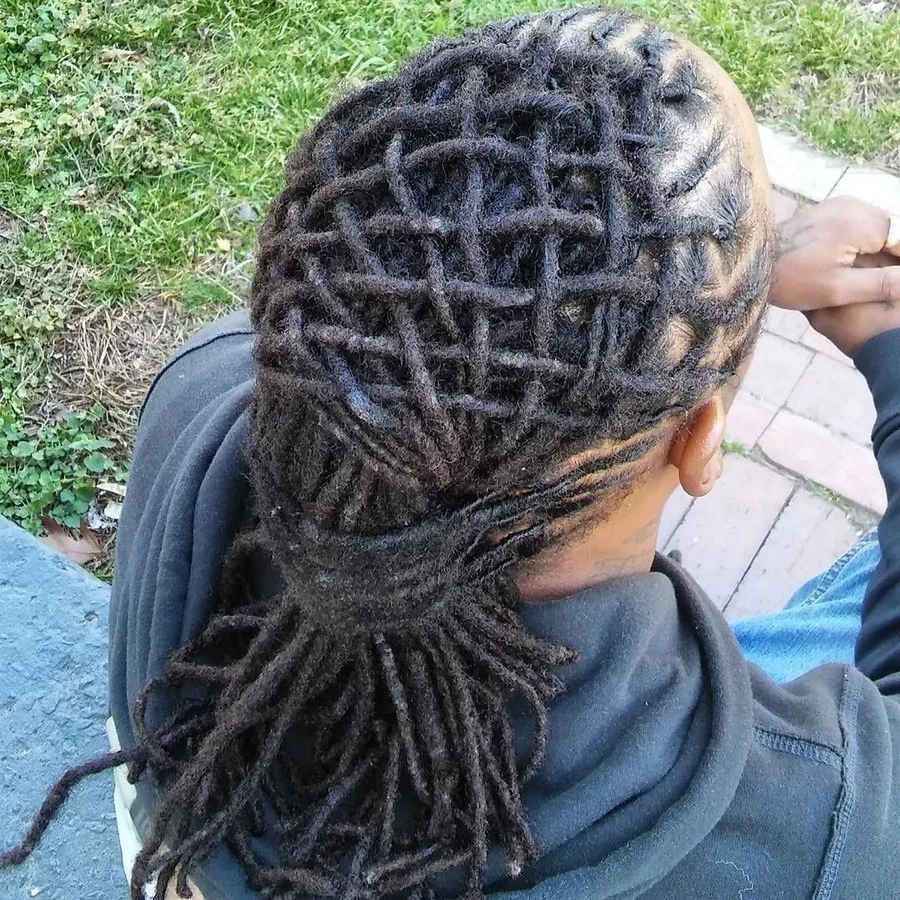 Bohemian style dreadlocks
The hippy look is exotic and one to die for. The sense of confidence and elegance you project when you adorn such a hairdo is worth every time penny.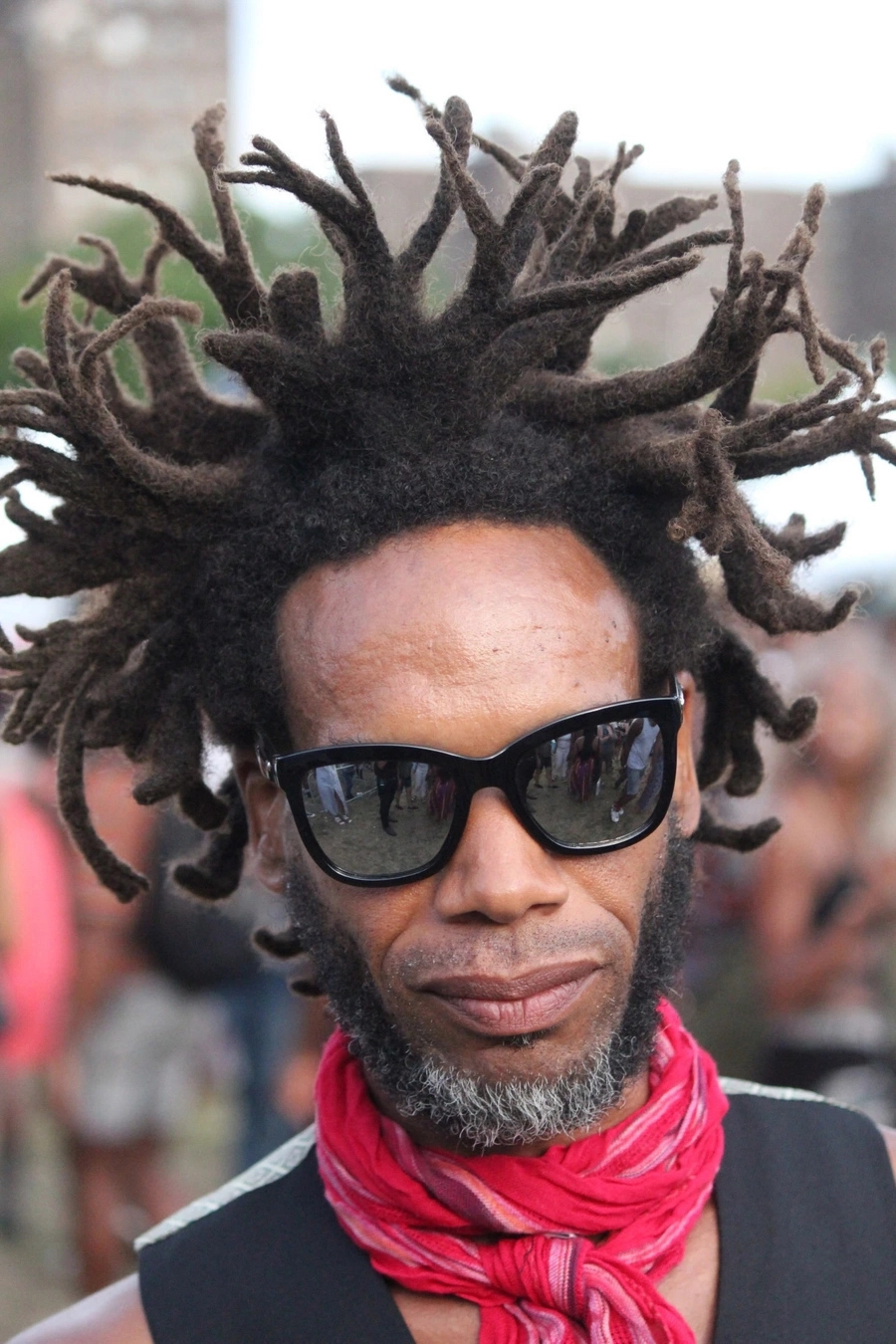 Dreadlocks products
Avoid archaic and crude method of locking your hair that promise heaven only to realize you were hoodwinked by a guy who just wanted to make a quick dollar. Products like hair gel, candle wax, glue honey, chewing gum, toothpaste, glue, and mud are claimed to be a remedy to a falling dreadlock but they don't work at all!!
For excellent results, you need to buy these dreadlock consumables
Apple cider vinegar
Distilled water
Residue -free Medicated shampoo
Tea tree oil
Rosemary oil
What do you think about these styles? Was the article helpful? Feel free to leave your highlights in the comments section.
Also Read Best Dreadlock hairstyles for women